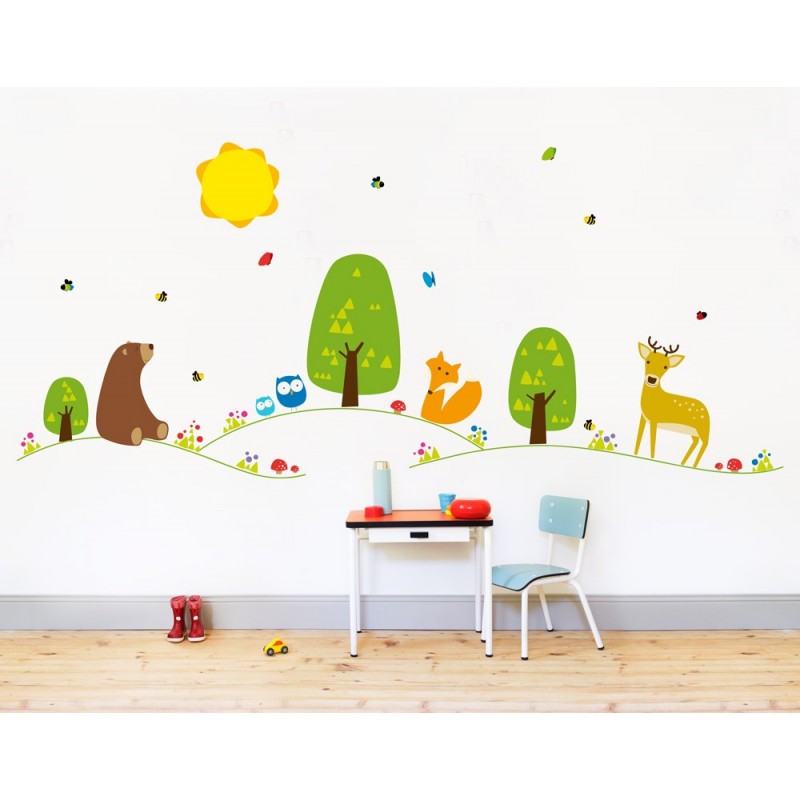  
Sticker - Forest
This composition measures 280x120 cm. It includes 1 sun, 16 animals and vegetation. Easy to stick on any surface.
Usually dispatched within 2-3 days. Available in store.
A giant forest sticker to decorate your child's room
This forest sticker is the perfect wall decoration for children. With Bumoon, bring the forest onto the walls of your child's room. You can make the universe that suits them through all these wall stickers: 1 sun, 3 trees, 7 grass lines, 8 wild berry plants, 5 mushrooms and many animals : 1 bear, 1 fox, 1 fawn, 2 owls, 2 ladybirds, 4 bees, 2 flies and 3 butterflies. Once it is on the wall, the sticker can be up to 2.8 meters wide and 1.2 meters high. With this giant sticker, you change your child's whole universe. If your children prefer the sea, the jungle or giant animals, we have many other sticker models available on the Petit Toi website.
Bumoon stickers are easy and quick to stick on any smooth and clean surface. They are very durable and even washable. You can also take them off very easily without leaving a trace. Most of Bumoon's wall stickers are printed with a latex-based ink which has no harmful solvents. With this decoration, you can delight your children whilst taking care of them.
Bumoon: a desiger Mum's brand
Giuditta Bussetti, a young Italian designer, created Bumoon. She wanted to decorate rooms dedicated to children by making them warm and friendly. Whether it is for decorating children's bedrooms or playrooms, she imagined giant decorations which could be amended easily. Bumoon universe offers products for everyone, but always dedicated to children. Whether you want to decorate a room for a girl or a boy, you will find the Bumoon sticker made for you. Feel free to ask for our advice, Petit Toi is here to answer your questions.