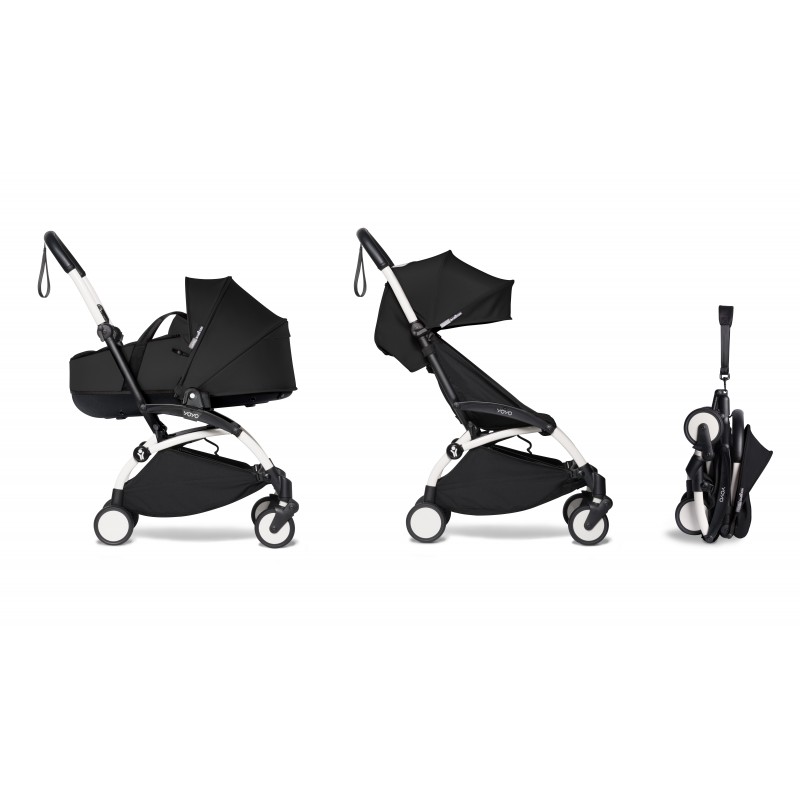  
Stroller YOYO2 Babyzen Bassinet and 6+ - Black - white frame
This stroller can be used from birth in parent-facing mode with the Bassinet and from 6 months can be switch and sit baby up to face the road, on the same frame, by simply adapting your 6+ fabrics.
Your stroller will accompany your child until early childhood (22 Kg).
This new and improved model can now be used with a car seat and can switch from the car to the YOYO2 with one easy click.
Available in store. Usually dispatched within 2-3 days.
One-hand folding, unfolding and driving.
XXL storage basket.
Extremely compact when folded (52 x 44 x 18 cm), the YOYO2 follows you on-board a plane as hand luggage (Since 2012, the YOYO, YOYO+ and YOYO2 strollers are accepted or recognized as cabin luggage by most airlines companies. (However, cabin luggage standards may vary according to the airline and we therefore recommend checking with your chosen airline before travelling for the latest applicable cabin luggage allowance.).
Comes with its transport bag.
Featherweight: 6.2 to 6.6 kg depending on the version.
4-wheel suspension Patented and exclusive "soft drive" system: no need to block its front wheels, regardless of ground conditions.
Extendable canopies with sun protection (UPF 50+).
Rain covers not included.
Certified 22 kg.