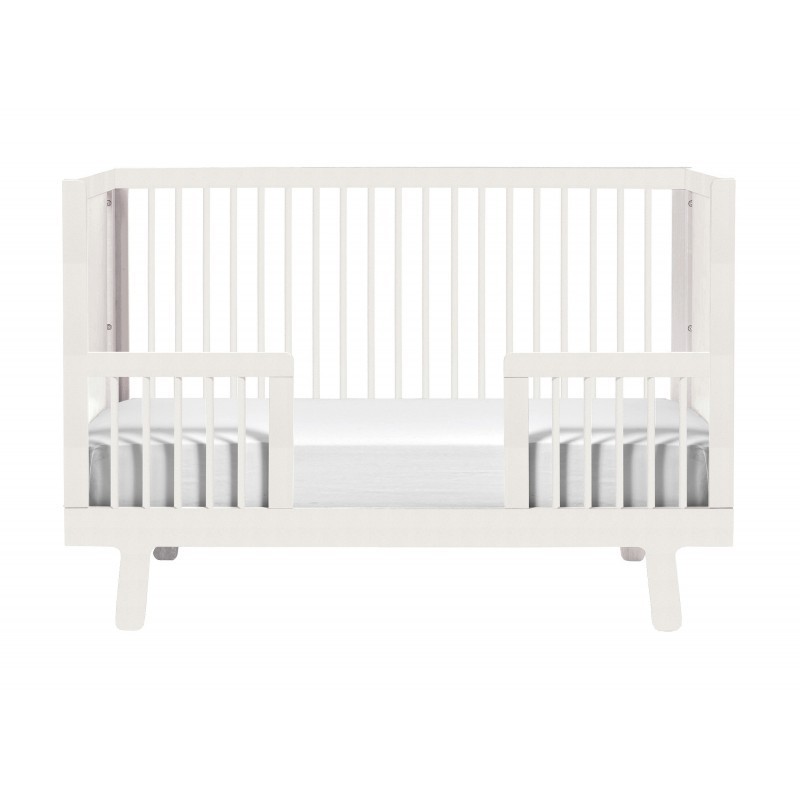  
Sparrow Cot - White
This white crib is suitable for children aged up to 6. Dimensions: L70 x W140 x H91.5 cm. Mattresses and changing tables are optional. Available only in store within 6-7 weeks. Contact us for a quote. Delivery and/or assembly by our professional team can be arranged upon request.
A designer bed for your child
This cot bed was designed by the brand Œuf NYC. Made with birch, it is available in four colours : white, grey, birch and walnut. You have the choice of four models on our website. It is a perfect cot bed for your child's room as we also sell the conversion kit, which allows you to replace the cot's bars so your child can get up alone. All Sparrow cot models and the conversion kits are sold on our website. Please ask us for advice on the different options for this cot. Furthermore, because it is so important for your child to sleep comfortably, Petit Toi also sells Bico mattresses, whose dimensions are 70 x 140 cm. They perfectly fit the Sparrow cot whose dimensions are 70 x 140 cm as well.  
The leading piece of furniture from Œuf NY's Sparrow collection
This cot bed is part of Œuf NYC's Sparrow collection. If you choose this bed, you can easily find the other furniture for your child's room from the rest of Oeuf NYC's Sparrow collection:
Bedside table / Chest of drawers / Wardrobe
A bed for his/her big brother or sister - Sparrow Junior bed
Petit Toi sells all this furniture so please ask us for further information.  
Œuf NYC: an eco-friendly brand from New York
Petit Toi sells Oeuf NYC furniture because of their design and their quality. But it is also because they use wood from sustainably managed forests. Petit Toi likes to offer you brands that are environmentally friendly. Œuf NYC is one of our favorite brands for all your children's furniture.