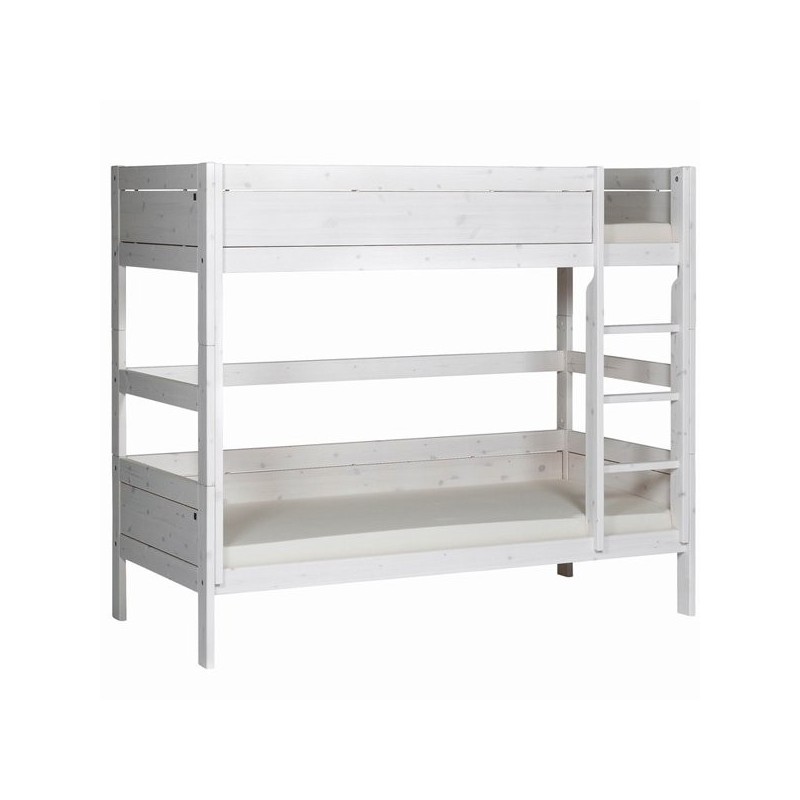  
Bunk Bed with Ladder - Single or Double
This bunk bed allows for better use of space in the children's room.
The top bunk bed is 90 x200. On the bottom, it is available in 3 sizes:
⦁ 177 cm x 207 cm x 102 cm. Mattress size: 90 cm x 200 cm
⦁ 177 cm x 207 cm x 132 cm. Mattress size: 120 cm x 200 cm
⦁ 177 cm x 207 cm x 152 cm. Mattress size: 140 cm x 200 cm
Under the low bed, there is room to install a storage drawer or other extra bed.
The ladder can be placed on the right and left side of the bed, you can choose between a straight or sloping ladder.
This bunk bed is the perfect option to optimize space and design the children's room. Available in white and white-wash.
LIFETIME beds are produced in Denmark and made from 100% certified, sustainable Scandinavian pine wood and non-toxic paints to keep your child safe. Due to the great versatility of this brand, we prefer to offer you a personalized service and we invite you to contact us directly at the store.
You can reach us at: +41 21 558 41 96 or by email at info@petit-toi.ch

Garanties sécurité

Politique de livraison

Politique retours
LIFETIME Kidsrooms offers a wide variety of furniture to create aesthetic spaces according to your needs and design, while remaining functional and practical.
You have the possibility to have your furniture delivered and/or assembled by our team of professionals upon request.
Price for information and relative to a white bunk bed of 90 x 200 cm. The accessories are optional.
The mattress is not included in the price
On order only. Availability: 4-5 weeks.
You might also like