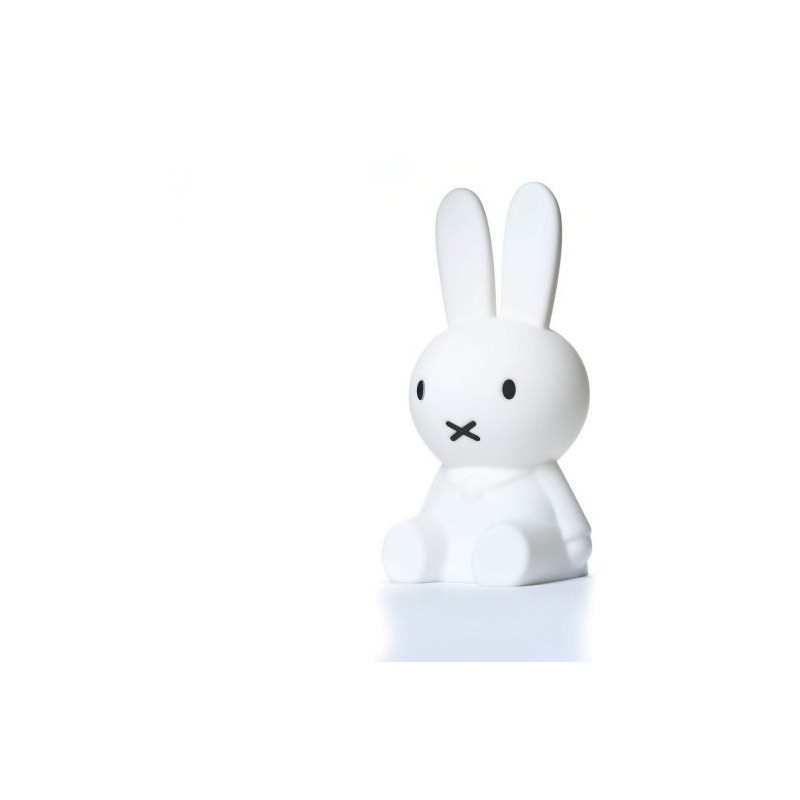  
Miffy rabbit Night lamp - S
Mr Maria
Soft, silicone Miffy rabbit nightlight. Features 6 dimmers to keep an eye on and accompany small children.
The nightlight can be recharged using the included USB cable.
Height: 30 cm.
Made from BPA-free silicone.
Available in shop.
Usually ships in 2-3 days.
Description
Miffy the rabbit: a 100% Dutch creation
The Dutch graphic artist, Dick Bruna, first created Miffy the rabbit in the bedtime stories he told his son. Since then, Miffy has become very popular and has appeared on many objects. This Miffy night light is 100% Dutch, as Mr Maria is a Dutch brand. Mr Maria consists of two very talented designers who create night lights for children of all ages.  
A night light for children
Miffy the night light is primarily dedicated to little ones as it will reassure them in the dark. Its elegant design and Miffy's pretty face is ideal to give your child a sense of security if they are afraid of the dark. Made of polyethylene, the lamp is very resistant, recyclable and environmentally friendly. This is why Petit Toi recommends Mr Maria for your children. This night lamp is also available in a larger model. You can find Miffy Night lamp - XL on Petit Toi's website. However, if your child prefers mushrooms to rabbits, you can also find that night lamps in our selection of night lamps.  
A beautiful decorative lamp
With its integrated soft LED light, Miffy lamp is also a mood lamp for any living room. Mr Maria designed this product for all people. Whether you are a lover of rabbits, a fan of comics or just a big kid, Miffy lamp is made for your home. It is white, so it fits into any decor. It is a modern design lamp which is recommended by Petit Toi. Please do not hesitate to ask us advice for decorating your home.